This article is about the character. For the Strong Bad Email, see homesar.
Homesar was created as the result of a misspelling of "Homsar." The email Strong Bad got that created Homesar said: "What is the best way to get rid of Homesar?"
Full Name

Homesar Runner
Age
Early twenties.
Relatives

Homestar (cousin), Homstar (cousin), Homeschool (cousin), Homsar (cousin), Preshy and Rafferdy (cousins), Champeen (cousin), Homestripe (cousin)

Romantic Interests
Probably Coach I, Coach L, or Coach Pi.
Gender
Male
Description

White Skin
He looks like Homestar with Homsar's legs.
He lacks visible arms.

Attire

A blue bowler hat with a red stripe.
A yellow shirt that reads "homesar".
Shoes like Homsar's, only yellow.
A green duckie shirt (sometimes in place of his "homesar" shirt).

Abilities

When he walks, a song plays (usually "Pop Goes the Weasel" or "Turkey in the Straw").
He seems to know

the Thnikkaman

is really Bubs.
Like Homestripe, he has the ability to imitate voices.

Weaknesses

He isn't very fast.
He can be tricked into doing almost anything, especially if it is Powered by The Cheat-related.

Likes

Being with Homstar.
Powered by The Cheat cartoons.
Gardening.
Anything with "Pandora" in the label.

Dislikes
Friends

Homstar (his best friend)
The Cheat
Strong Bad
Homestar Runner
Strong Sad
Homsar
Bubs
Coach Z
Pom Pom
Marzipan

Foes

The King of Town (Once, Homesar invited the King to dinner, and the King ate everything on his plate and Homesar's plate!)
The Poopsmith (Homesar hates the smell of whatsit)

Nicknames

The Homesar Runner (He is sometimes called this in books.)

Catchphrases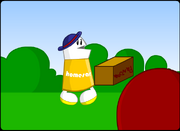 Domicile: Homesar-in-the-Box
Debut: Email homesar
Email Debut
Homesar first appeared in the email homesar holding a box labeled "Pandora". Strong Bad tried to drop a Heavy Lourde on him, but failed. Strong Bad then told Homesar that The Cheat made a cartoon with a box labeled "Pandora" in it, which, unbeknownst to Strong Bad, The Cheat actually did make.