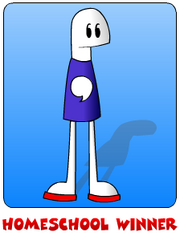 This page is for Homeschool Winner from ANY person's continuity.
Basic Infomation
Edit
Little information truly exists regarding Homeschool's past, personality or anything of importance. He was described as being a big nerd, with a possible creepy edge to him. Homeschool was present in the Dancin' Bubs game along with most of the main cast and Champeen, and he has a character card (seen to the right), but he has never appeared in anything else by the Brothers Chaps due to being retired early on in the series' history. It is unknown what his relation to Homestar or Homsar is, if any, and it remains to be seen if the skull shown in the Strong Bad email "buried" is his, or if it is simply a figment of Strong Bad's overactive imagination.
General Fanon
Edit
Homeschool is often depicted as a skilled inventor, and a friend to Strong Sad due to their nerdy interests.
Homeschool is also rumored to be faking his death to gain popularity, likely inspired by real-life musicians such as James Dean, Elvis Presley or Jimi Hendrix.
(coming soon)
TwiceStyle Fanon
Edit
Is Homestar Runner's cousin and brother of Champeen
Is really named Homeschool Runner, but people call him Homeschool Winner.
Is college-aged
MrMenCentral Fanon
Edit
He is Homestar and Champeen's cousin.
He likes to help Bubs out, especially with his inventions. This was shown in the commentary for time travel, where he helps Bubs build a time machine for Homestripe.
His voice is similar to that of Bunsen Honeydew of the Muppets.