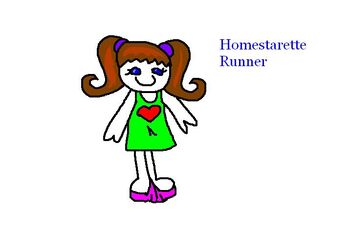 Age: Same age as Homestar Runner
Relatives: Homestar Runner (brother) Homeflower Runner (brother) Queen Samila (mother)
Alias: Happy, Sunny.
Romantic Interests: Homsar (crush)
Gender: Female
Description: White skin, Blue eyes, feet being pink, long brunette hair.
Attire: green dress with a large red heart on the front, two purple head rubbers.
Her Brothers Homestar Runner and Homeflower Runner
Happiness
Homsar
Drawing
Friends
Cute Things
Good behaviours
Madness
Bad behaviours
Strong Glad communicates on Strong Mad
Falling
Relationships
Edit
Homestar Runner
Homeflower Runner
Queen Samila
The Cheat (on it wool allergy)
Other Variations
Edit
Hearty (20X6)
The Helga (Old-Timey)
About her
Edit
Homestarette - is Homestar's and Homeflower's Sister. She has hands and two pony tails. She likes Pom Pom, but dislikes The Cheat. She has best friend - Pum Pum. She has crush on Homsar.