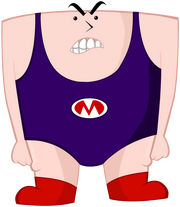 This page is for Strong Mad from ANY person's continuity.
Basic Infomation
Edit
Strong Mad is the oldest of The Brothers Strong.
(more infomation soon)
(coming soon)
His personality is Bad Behaviours and Madness (Homestarette thinks too), he has crush on Hurry. His age is unknown but he is about 28 - 30.
(more infomation soon)